ATV330
Emax Control is an official distributor for ATV330 inverter in Malaysia. We also provide pre-sales consultation as well as post sales technical support.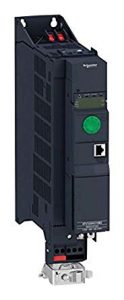 ATV330 are a series of customized inverter with custom firmware and custom dimensions. Due to its thin size, it is widely used in installations where space is extremely limited.
The width of ATV330 is carefully design to match Schneider GV2 series MCCB for flush installations. Apart from that, the size of the ATV330 is also matched with Schneider Tesys LC1D series contactors. This means that many ATV330 inverters can be installed within a control panel together with optional GV2 incoming MCCB and Tesys LC1D output contactors. Small design footprint are a key feature, and many inverters can be installed together side by side without minimum distance.
ATV330 inverters are widely customized for Glove, Palm Oil and Boiler industries based on unique customer requirements.
Common part number for ATV330 is as follows:
0.5kw ATV330U005C
0.7kw ATV330U007C
1.5kw ATV330U015C
2.2kw ATV330U022C
3.7kw ATV330U037C
Dimensions are highly customized and there is no standard/fixed format. If you need assistance, please contact your local sales representative.
Additional information on market segments or other models of inverters can be found here.