Schneider Modicon M100
Emax Control is an official distributor for Schneider Modicon M100 Malaysia. We also provide pre-sales consultation as well as post sales technical support.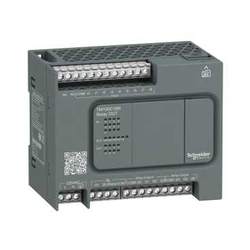 The Modicon M100 range has been designed for use in small automation systems and machines, with few actuators and sensors.
They are ideal for use in the following sectors and for the following repetitive
machines:
a Packaging
– Compactor
– Baling presses
b Material handling
– Small conveyors
– Palletizers
– Goods elevating platform
c Metal working
– Small punching machines
d Water
– Small pumping equipment
e Building
– Automatic door
– Automatic awning
– Roller blind and shutters
– Car park occupancy management
– Lighting control
– Greenhouse air circulator control
Download Catalog Here: Modicon M100
Common Part Numbers:
TM100C16RN 16IO
TM100C24RN 24IO
TM100C32RN 32IO
TM100C40RN 40IO
For more information on Schneider Modicon M100 Malaysia, please visit the official website of Schneider Malaysia.