Schneider Pricelist 2017
Emax Control is an authorized distributor for Schneider LV products. Request a copy of Schneider Malaysia Price List 2017 for LV products today!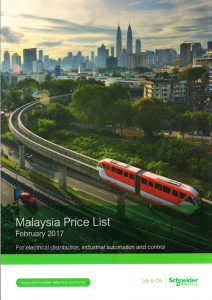 Content:
LV Power Protection and Control Devices:
Moulded Case Circuit Breaker

EasyPact EZC
EasyPact CVS, Compact NSXM, Compact NSX & Compact NS
Compact NSX DC

Air Circuit Breaker

EasyPact MVS
Masterpact NT and NW

Earth Fault and Monitoring Relays
Switch-disconnectors
EASY9

EASY9 Circuit Breakers
EASY9 Residual Current Circuit Breaker
EASY9 Residual Current Operated Circuit Breaker (RCBO)

Acti 9

Circuit Protection
Earth Leakage Protection
Overvoltage Protection
Control

Energy Management
Reactive Energy Management
Electrical Network Protection
Automation and Control:
Motor Control

Contactors, Motor Circuit Breakers and Protection Relays

Automation
Power Supplies

Power Supplies and Transformers for Control Circuits

Operator Dialog

Control and Singnaling Units
Illuminating Beacons
Indicator Banks

Limit Switches & Sensors

Photo-electric Sensors
Proximity sensors
Limit switches
Sensors for pressure control
Machine cabling accessories
Special Update: We are currently having a promotion for our RXM series relays. Check out our Relay & Base Product page for more info!
For more information on Schneider Products, please visit the official website of Schneider Malaysia.