PM1120H Power Meter
Emax Control is an authorized distributor for Schneider PM1120H Malaysia. The PM1120H is a new generation of cost-effective power meters suitable for a wide range of applications.
As a newly launched model in Malaysia, we are currently having a exciting 2019 promotion for SKU: METSEPM1120HCL10RS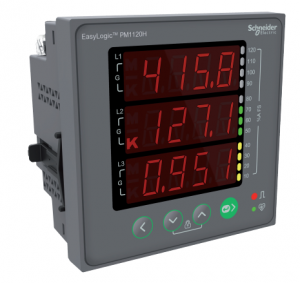 Schneider EasyLogic™ PM1120H Malaysia meters are ideal replacements for multiple analogue meters for stand-alone metering in custom panels, switch boards, switch-gear, generator panels, motor control centers, power factor improvement panels and OEM panel board.
Application
Cost management applications
Measurement of basic electrical parameters in control panels, motor control panels, power distribution boards, OEM's, Building management systems, panel instrumentation
Aggregation of energy consumption and cost allocation per area, per
usage, per shift and per time within the same facility

Network management applications
Power quality analysis (THD %)
Demand measurement
Measurement of Power factor
Phase angle between the voltage and current
% unbalance among voltage and current
Modbus RTU protocol RS-485 communication port for integration with energy management system
Main characteristics
Easy to install: Mounts using two retainer clips, no tools required. Compact meter with 49 mm meter depth behind the panel, connectable up to 480 V +10% AC volts L-L without voltage transformers for installation compliant with measurement category III
Easy to operate: Intuitive navigation with self-guided menus and Heartbeat LED indicates normal functioning of meters while it conveys the communication status when connected to RS-485 network
LED display: Intuitive navigation with self-guided, four buttons, 8 segment alphanumeric LEDs of height ~14.2 mm (0.55 in), and three lines of concurrent values with Kilo & Mega value indicator.
Power and energy: measurement, display and recording of any one power and corresponding energy parameter at a time (W/ Wh or VA/ VAh or VAR/VARh – selectable through panel button or configuration software)
Demand: measurement of Peak, present and last demand values of either W, VA or VAR parameters with selectable demand parameter, demand interval and demand technique
Accuracy:

Class 1.0 for active energy as per the test limits given in IEC 62053-21
Class 0.5 for active energy as per the test limits given in IEC 62053-22
Class 2.0 for reactive energy as per the test limits given in IEC 62053-23
Tested in accordance with IEC 62052-11 for energy test requirements
EMI/EMC tests: As per IEC 61326-1

CT nominal: 5 A or 1 A I-nominal (field settable). CT reversal auto correction for energy consumption.
Password: Field configurable password for securing set up information and prevents tampering of integrated values.
Cyber security: Option for disabling RS-485 port through front panel keys against unauthorized access. This feature can also be used for maintenance and troubleshooting of complex communication network.
Display: Auto scaling, 4 digits for Instantaneous parameters and 5+3 digits for energy parameter with auto scale and auto range capability.
Analogue load bar: The colour-coded analogue load bar at the front side indicates the percentage of load through 12 LED's with the option to select full scale based on connected load.
Suppression current: To disregard the measurement of induced and panel auxiliary load current in the circuit (settable from 5 to 99 mA)
Protective cover: Tamper-proof terminal screws do not detach from housing
Catalog for PM1120H Malaysia can be downloaded here.
For more information, visit Schneider Electric Malaysia.