Power Meter Malaysia
Emax Control is an authorized distributor for Schneider PM1200 Digital Power Meter Malaysia. The PM1200 is a cost-effective power meters suitable for a wide range of applications.
NOTE: THE PM1200 HAS BEEN DISCONTINUED IN MALAYSIA AND IS REPLACED WITH PM1120H. Hence, it is being sold at Stock Clearance Prices!!! Be sure to grab this opportunity to purchase a brand new unit at very affordable prices!!!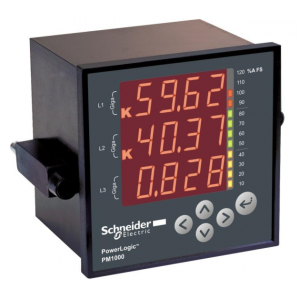 The PM1000 series power meter Malaysia are digital power meters that offer comprehensive 3-phase electrical instrumentation and load management facilities in a compact and rugged package.
The PM1000 series power meter is an universal power meter. Before use, please program the SYS (measurement system configuration) and the PT (VT) and CT ratios through the front panel keys. Otherwise, it will read your system incorrectly. Other settings, such as communication parameters, must also be programmed as needed.
Emax Control stands behind your PM1000 power meters with complete user support and service.
Intended use: PM1000 series power meter is designed for use in industrial and commercial installations by trained and qualified professionals, not for domestic use.
For other related products, feel free to browse our inverter, PLC or HMI pages respectively.
For more information, visit Schneider Electric Malaysia.